The Hudson House – North Beach Haven
Last Updated on
The Hudson house is a no-frills local bar located on 13th street between Long Beach Boulevard and North Beach Avenue in the middle of a residential neighborhood. There is very limited parking available. Many visitors walk or bicycle.
The interior is 'rustic' with a small take out section as you enter. The crowd is a mix of young and old. Amusements include shuffleboard, pool table, darts, basketball and a punching bag. The bar is cash only and there is a jukebox for musical entertainment.
If you want food, well, eat before you go.. You can get small bags of snacks. I told my girlfriend that I wonder if the snacks available are the same as when I would go there in the 1970's. Not the same type of snacks, but the SAME snacks.
You can also purchase one of their famous "It's 11:00, Do you know where you are?" Shirts. Those shirts date back to around the 1970's. It was a play on a popular public service announcement "It's 11:00, Do you know where your children are?"
The PSA "It's 11:00. Do you know where your children are" was often parodied. .. no kidding. You can even get the t-shirt
One amazing feature of the Hudson House is a real phone booth complete with a 70's era phone. You just don't see many of those any more.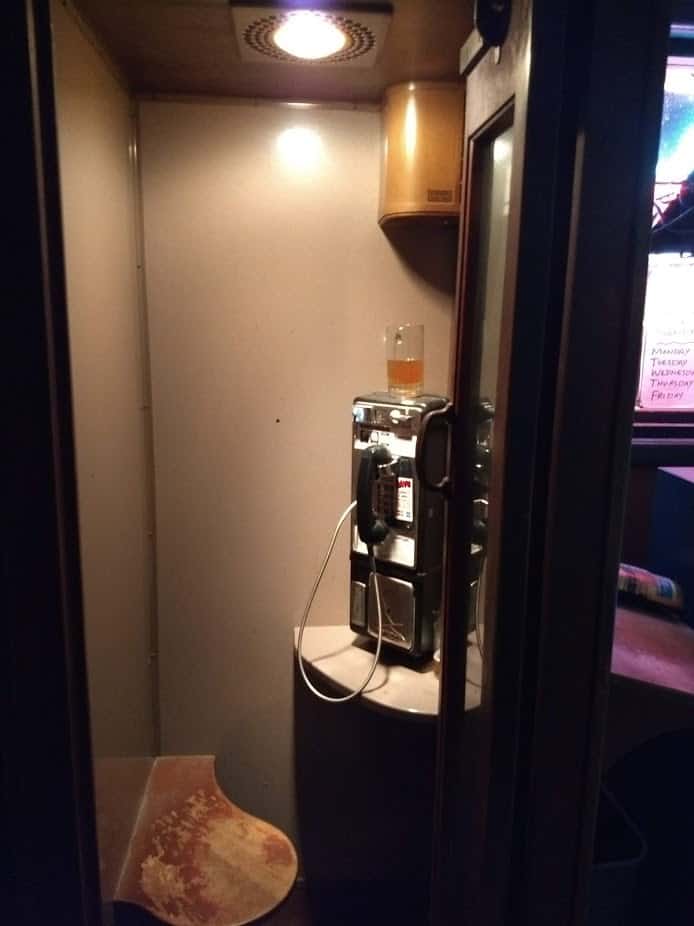 Update Nov 2019 – MSN Lifestyle published a "Best dive bar in every state" guide. The Hud was named as "The best dive bar in New Jersey"  Also, there is an article in Bay Magazine called "The Legend of the Hudson House" with an interesting history including it's time as a bordello and speakeasy as well as a murder in the 1930's.
Similar Posts:
One Response to The Hudson House – North Beach Haven
Pingback: LBI Stores and Restaurants under Covid. - LBI Views
Privacy and terms of use