The Hudson House – North Beach Haven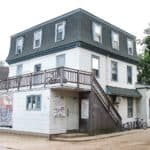 The Hudson house is a no-frills local bar located on 13th street between Long Beach Boulevard and North Beach Avenue in the middle of a residential neighborhood.  There is very limited parking available. Many visitors walk or bicycle.
The interior is 'rustic' with a small take out section as you enter. The crowd is a mix of young and old. Amusements include shuffleboard, pool table,  darts, basketball and a punching bag. The bar is cash only and there is a jukebox for musical entertainment.
If you want food, well, eat before you go.. You can get small bags of snacks. You can also purchase one of their famous "It's 11:00, Do you know where you are?" Shirts. Those shirts date back to around the 1970's. It was a play on a popular public service announcement "It's 11:00, Do you know where your children are?"
The PSA "It's 11:00. Do you know where your children are" was often parodied. .. no kidding. You can even get the t-shirt
Similar Posts:
Privacy and terms of use