Manahawkin Bay Bridge – 6 years of construction – Still 2 lanes on , 2 lanes off
We've all been watching the construction of the Manahawkin bridge over the last few years. Sometimes we've gotten a good look as we've been stuck in traffic. Other times you can't look anywhere as you are in a cattle chute.
Ever since I was a kid, the only bridge to the island was two lanes on and two lanes off. Over the years traffic has become increasingly worse to the point where Route 72 has become a linear parking lot from the Garden State Parkway to the Boulevard on the island.
I had hopes that the several years of construction would result in improvements like additional lanes on and off.
Well, guess what??  The brilliant people in charge have decided that after a half dozen or more years of construction, we would go from 2 lanes on and 2 lanes off to……….  wait for it…….. 2 lanes on and 2 lanes off.   Even with common core math one would assume that that is not an improvement.
Oh, there will supposedly be 'improvements' at the intersections on the island.   Oh boy, that might shave a whole 5 minutes off the hour or more it takes to get from the parkway to the boulevard.
Oh, there will be a bicycle lane each way.. That is great.. After sitting in the Route 72 Parking lot inching your way to the island, you MIGHT have  see one bicyclist crossing the bridge with their nylon bicycle shorts.
You can watch this whole debacle unfold at the Route 72 Bridge project page.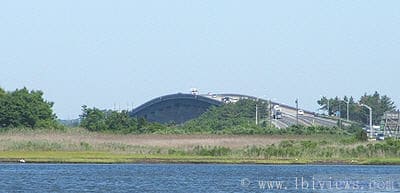 Similar Posts:
Privacy and terms of use