LBI Webcams
If you want to see what is happening on the island or just do a five minute virtual visit, here are some LBI webcams
Please leave a comment if you find that a camera is offline or if you know of other LBI cameras.
Locations
Brant Beach Yacht Club  –  The bay from the Brant Beach Yacht Club. You can pan and zoom the camera. Take control by clicking the joystick button. (Oct 2019 – This MIGHT be disabled now. Check back for updates)
Marsh Camera – A view of a salt marsh on LBI. Don't get too excited watching this.
Weather Cameras
Wunderground  Weather Cameras –  Webcams from Weather Underground Spotters on LBI. Click on any of the small images to see the webcam. Then click the image again for a larger view.
Traffic Cameras
Boulevard & 28th, 38th and Holgate
Traffic Cameras 38th and the Boulevard.  This is a traffic cam of 38th and the Boulevard.  NOTE – use the drop down box as shown in the image below. That will give you access to all 4 cameras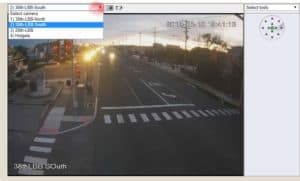 511.org Traffic Cams (Two cameras on Route 72)
511.org Traffic Cams will show a map. There are two cameras local to Long Beach Island. One is at 72 and the Garden State Parkway. The other is at Route 72 and Route 9.  Zoom and pan the map and click on the appropriate camera icon. 
Lbinj.com cameras
The LBINJ.com cameras are the same feeds as the "At the Shore" cameras listed below. However, they seem to be a little more stable. 
At the Shore
AtTheShore This is a collection of traffic and surf cams. The site seems a bit unstable but the cameras are very good location-wise. (note – check out the Lbinj.com cameras above. They are the same feeds but seem more reliable.
Go to the AtTheShore page
Scroll down to Long Beach Island and click
Choose one of the cameras
When the camera appears, you will probably have to "X" out one or two overlay ads. The ads fade over a second or two after you X them out.
Note – you might get an M3U8 error on some of the cameras. This is a technical issue with the cameras. I'm not sure how consistent the error is.
Surf Cameras
Offline Cameras
A lot of cameras have gone offline or just plain wonky since this list was first published. I'm leaving the links here for a while in case they come back online
Similar Posts:
5 Responses to LBI Webcams
Pingback: Long Beach Island Foundation for the Arts and Sciences - LBI Views

Pingback: Fantasy Island Arcade and Amusement Park in Beach Haven - LBI Views
Privacy and terms of use