Fourth of July fireworks in Beach Haven
For as long as I remember, Beach Beach Haven has has provided a spectacular fireworks demonstration each year
Where and when to see the Fourth of July Fireworks.
The fireworks are presented from barges that are anchored in the bay off 9th Street in Beach Haven near Bay Village. The exact date of the fireworks depends on when the 4th of July Falls in that particular year. It also can be cancelled for high winds or heavy rain.
The best viewing spot is at the Bay Beach at 9th Street in Beach Haven. However traffic is thoroughly congested and finding a parking spot is an ultimate challenge. The ends of most streets North to about 21st Street in North Beach Haven provide a decent View. Parking near the bay is extremely difficult at most locations. Arrive early for parking and a decent viewing position. Most people bring a chair.
Watching the show by boat.
There are also hundreds of boats anchored in the Bay North and South of of the fireworks. Some of the local party boats such as the Black Pearl will will offer special packages to watch the display and party on board.
Dozens of boats are anchored in the bay. Be sure not to anchor in the channel. The event is patrolled by the Coast Guard and Marine Police.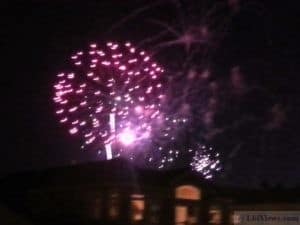 Duration of the show
The show will generally start when it is fully dark. Perhaps around 9 pm. Usually one firework is shot as a test. A few minutes later the show begins. Typically expect about a half hour show with a grand finale.
Other places and times for fireworks shows.
Other municipalities on the island also have fireworks displays. They may or may not occur on the same night as the displays at Beach Haven.
Recently (2019), Fantasy Island has been presenting a Labor Day Weekend fireworks display
After the show
When the fireworks are over, there is a massive 2 hour traffic jam on the Boulevard and side streets. Many people find a place to wait it out for a while.
Private fireworks.
One thing to keep in mind is that the State of New Jersey and local municipalities have very strict rules and regulations regarding private fireworks use.
Similar Posts:
Privacy and terms of use