Station 117 Restaurant and Bar in Beach Haven
Last Updated on
UPDATE – July 2020 – Station 117 is offering outdoor dining in "The Garden". It is well covered outdoor seating. 
Station 117 Restaurant and Bar pays homage to the lifesaving stations that once provided protection and refuge for sailors along the coast of Long Beach Island.
Covid-19 updates
Station 117 has an outdoor seating area called "The Garden" which is currently open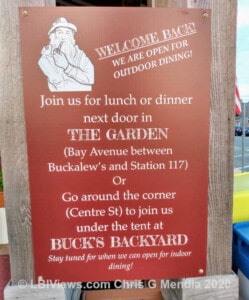 Station 117 Restaurant and Bar.
Station 117 is affiliated with Buckalews, a long time island favorite (Buckalews now, Buckalews then). It is located in the same block just north of Buckalews.  The interior and exterior is not a replica of any of the Lifesaving Stations on Long Beach Island but it does capture the atmosphere. 
We stopped in on a Sunday afternoon after our sail on the A.J. Meerwald. They had a limited Brunch Menu available. I opted for the Station Burger which is Organic Grass Fed Beef , Sweet and Sour Onions , Gorgonzola, Arugula, Horseradish Mayo and French Fries. The burger is branded with 117.
My girlfriend opted for the Shrimp Scampi Flatbread with Garlic, Lemon, and Fontina Cheese.
There is a large covered deck that is set back from the boulevard.  There is also handicap access to the deck and dining room. 
If you are interested in the history of Long Beach Island, Check out the large photograph on the wall to the left of the bar below. That probably is from the 1920's or so. There you can see
The Baldwin Hotel
The Engleside Hotel (Look for the oceanside turret) The link to the Engleside page here shows a much earlier version of the hotel.
The "Y" junction where for the railroad where the trains could turn around for the trip back north. You can see a train in the Beach Haven Station.
Dock road (where Bird and Betty's/the Ketch/ The Acme is located)
The old water tower in Beach Haven that was destroyed in the early 1960's.
Long Beach Boulevard as a mostly gravel road
A large expanse of marsh that is now wall to wall homes.
You can see a similar aerial view of Beach Haven from the 1920's on our site.
Station 117 is located at 117 North Bay Avenue in Beach Haven. For more information, see the Station 117 site
Parking can be difficult to find depending on the time of day. 
Similar Posts:
Privacy and terms of use