Schooner's Wharf in Beach Haven
Schooner's Wharf is a collection of shops in Beach Haven located where the Lucy Evelyn was once beached.
After the Lucy Evelyn burned, a complex of shops was built known as The Schooner's Wharf. A replica ship was built which was much smaller than the original Lucy Evelyn. When the ship was first built, it had full sized masts. When they started to deteriorate they were replaced with smaller masts that leave it looking not well endowed.
Even though most of the shops are located on a terrace, there are ramps near Bay Avenue and near the boat ramp.
The replica ship is interesting but it just isn't the same as the Lucy Evelyn although the builders did go to a good bit of trouble to be as authentic as they could.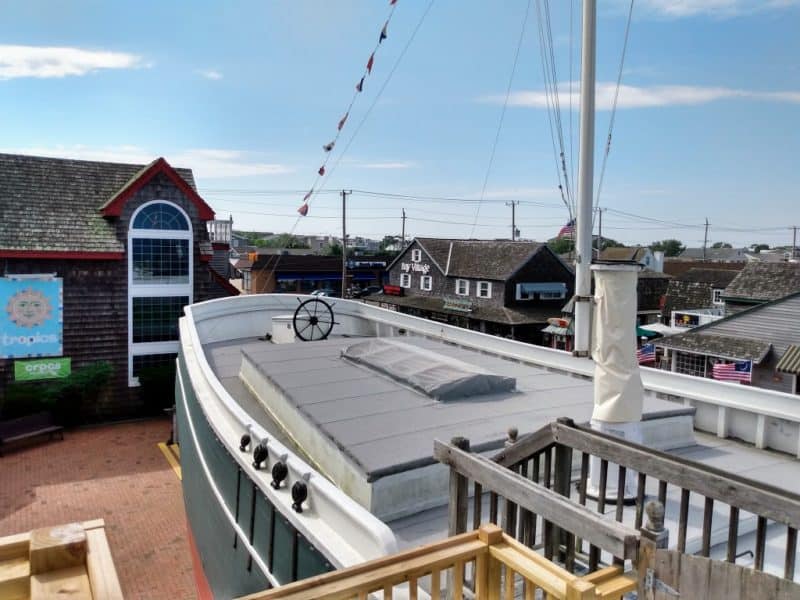 The bow of the replica ship. You can see the fittings where the rigging was attached for the original masts.
The stores vary a bit year to year but some have been there for a long time. The Gazebo Restaurant has something of a bay view. There is a grill, bakery/candy shop, ice cream store and more. You can find jewelry, pet items, books and clothes.
Similar Posts:
Privacy and terms of use