Daddy O Restaurant Hotel and Bar
Last Updated on
Sept 2019 – I stopped in for a quick bite at the Daddy O Restaurant. I've passed by the place hundreds of times. I had heard mythical stories about the cost to eat there. A quick check of the menu showed that you could get a Daddy O burger for $18. Ok, that is a little high for a burger but not outrageous.
Daddy O was originally known as Wida's Brant Beach Hotel and Seafood Restaurant. Before that, it was known as the Ockanickon Hotel The plan was to place these hotel bar & restaurants every quarter mile or so. When the hotel was built in 1926, the railroad ran on the island. The hotels would be ideal for people who wanted to vacation but had more modest means.
The dining room is modern with gas fireplaces and surf related decor.
The dining area is extensive. There is a large dining room, seats at the bar, a ground level terrace and a rooftop terrace (that is on our list to try next summer). Since I was a party of one, I opted to eat at the bar.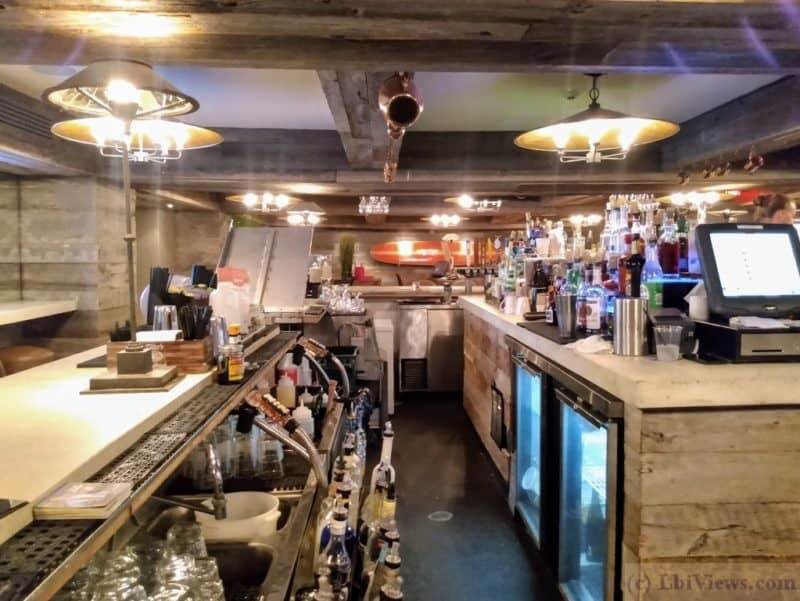 It happened to be happy hour. One of the offerings was a $2 taco. I had my mind made up on the burger but decided to add a steak taco. That turned out to be an excellent choice. About 3 of them would have made a meal even for me. So much for the myth of Daddy O being prohibitively expensive.
I ordered a Yuengling ($6) and my Daddy O Burger ($18). The burger came with double cheddar, smoked bacon mayo, lettuce, tomato, onion and fries. I ordered it done medium and that is how they delivered it. In most places ordering a burger done medium usually gets you a well done burger. In this case I got exactly what I wanted.
Station 117 in Beach Haven brands the top of their burger rolls with '117'. In the case of Daddy O it is simply an 'O'
I didn't get a chance to check out the rooftop bar as it was closed. I did check out the Garden Rum Bar. That is extremely cozy especially off season. They also have a small intimate lounge area.
Summary – I was able to get a really good meal including a beer for $25 plus a tip. It is definitely worth a visit. Check out their menu. Yes, you could easily spend $200 or more for dinner for a couple. On the other hand, if you want a reasonably priced meal, you can do that as well.
Similar Posts:
Privacy and terms of use