Marina ice damage 1970's
A photo from the 1970's showing ice damage at Stilt's Marina in North Beach Haven
About Stilt's Marina
Stilt's Marina was one of the small marinas on long beach island. It had berthing for about 30 or so small boats. Some larger boats were docked outside the seawall. 
They had a lift for taking boats in and out of the water. There was a large floating fuel dock with grey paint over fiberglass. In those days most engines were two stroke with a 20:1 fuel/oil ratio. That would send today's environmentalists into convulsions when you consider that meant adding about a quart of oil to six gallons of gas. 
They also had a small shop that serviced engines as well as offering a line of fishing gear, crab traps, ice and snacks. 
The Marina was owned and run by George Stilts and his wife (If anyone remembers her name, please comment). George also did some general contracting on the island. 
The marina was located at the end of 14th street, down the street from the Hands Store.  It was bought out by another marina and then, like so many other island icons such as Rudy's Marina, quietly disappeared. 
Ice damage to the marina
The photo below was taken during an extremely bad winter in the 1970's. Ice had raised most of the pilings and left them askew. Most of the docks were gone.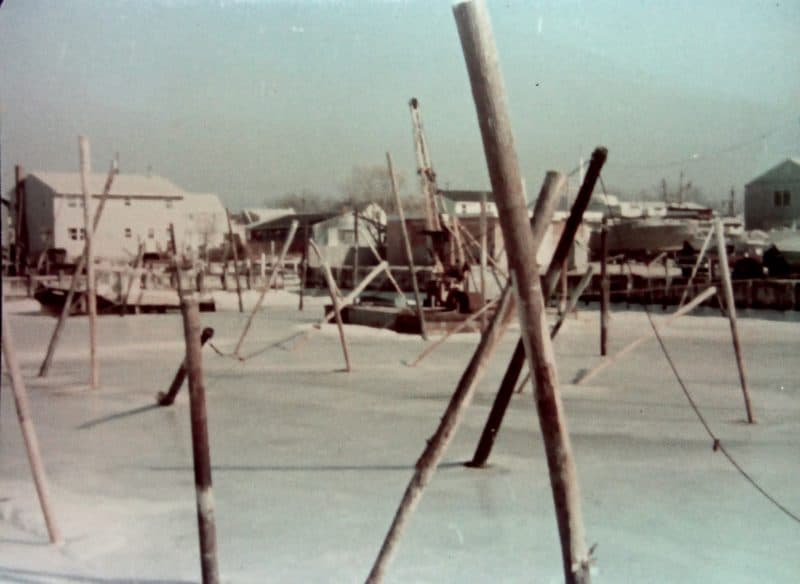 Similar Posts:
Privacy and terms of use