LBI Stores and Restaurants under Covid.
The LBI Stores and Restaurants under Covid are certainly different than they were previously.  Early in the season most of the stores were closed. Now some outdoor dining is available and some stores can let people in with restrictions
In June of 2020, LBI seemed like a surreal ghost town. Places that were normally full of people were empty. Some people wore masks outside but most didn't.  We weren't wearing masks outside since the ultraviolet rays of the son coupled with a stiff breeze will most likely make the probability of an infection nil. However, masks are required in stores and when picking up food. 
A Ghost Town
The image below was taken around 10:30 am on Saturday June 16th. It was reminiscent of a ghost town.  Granted, this was early in the season but normally, there would be people around. 
A lot of stores were closed. I am not sure how many stores and restaurants can survive the revenue loss at this point. Almost all of the stores were trying to recap a small portion of their losses via online sales. My heart really goes out to these business owners, their family and their employees. 
Capacity limits, free delivery, online ordering and curbside pickup
Stores are adapting quickly and trying to find solutions to stay solvent through the summer. 
Some stores were open but would only allow one or two people in at at time. Part of the allure of the shore was to randomly browse through shops. That doesn't appear to be likely this summer. "Free Delivery" of fudge is nice but it isn't the same as being in the shop watching it being made, trying samples and experiencing the aromas. 
The Crust and Crumb Bakery, which is usually packed wall to wall with people, was only letting one family in at a time. I'm not sure if that will be the case throughout the summer. 
Masks
When you venture out be sure to have your mask lest the mask police throw you into the darkest dungeons for the transgression of entering a bathroom mask-less.   There were a handful of stores selling cloth masks for reasonable prices. 
The sign on the door to the restrooms at the Schooner's Wharf indicate that masks must be worn inside. On the bright side, at least the restrooms are open.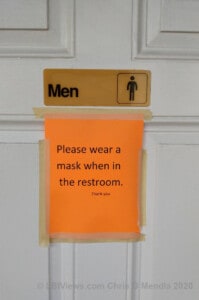 Outside dining – the summer of al fresco.
Some places such as the Ship Bottom Brewery are trying to cope with an outdoor Beer Garden. Note that the porta potties in the picture are only there for the construction.  Having  a flight of locally brewed beer while people watching might be interesting
Those businesses with enough room for outside dining or drinking might have a slim chance of surviving this summer. The problem is that the capacity of the outside dining is a fraction of the inside capacity. Supposedly establishments will be able to seat patrons inside at 50 percent capacity. 
Any restaurant that has the capability is creating outside seating such as this tent at Panzone's in Beach Haven. 
I don't want to sound negative but eating a pizza or hoagie outside is one thing. I'm not sure I'd want to spend full price for a seafood dinner with outside seating on the boulevard or in a tent in a parking lot. On the other hand, the owners can't reduce their prices after taking a beating by being closed this long. 
Some tips:
Reservations will be more important than ever especially as the season progresses. 
Keep an eye on the weather. I'm not sure about other people but I don't want to be sitting next to the metal support pole for the tent in the middle of a thunderstorm
Remember that you are eating outdoors. If you require one, bring an epi pen. Also, make sure you have bug spray. Nothing ruins the dining experience like mosquitoes or greenheads. 
Night life
Some of the iconic bars on LBI may not be able to open. Given the current climate, places such as the Hudson House will not be able to be full of shoulder to shoulder people. Some of the beach bars such as The Engleside might be open., Everything is in a state of flux so keep your eyes and ears open.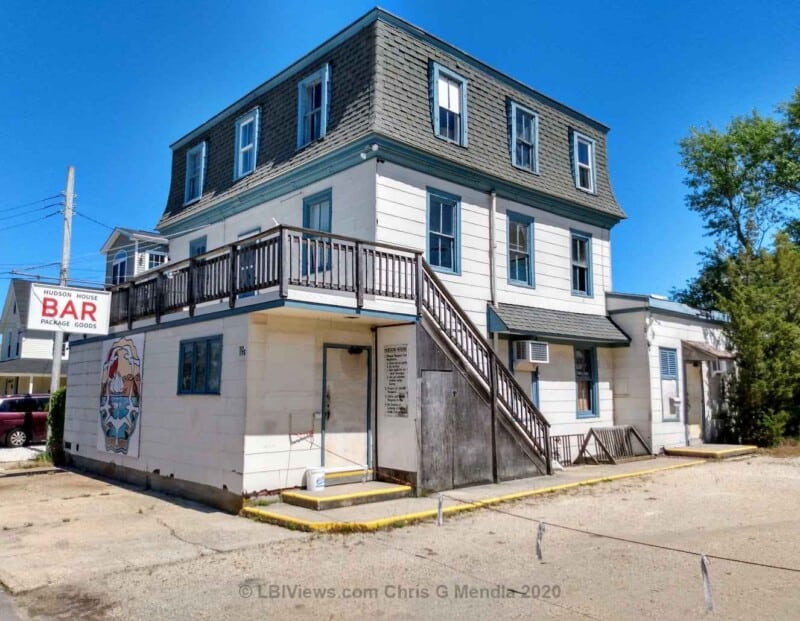 Humor
There is some humor such as the Hands store adding a banner so that it reads "Wash your Hands".   It's a little thing but it helps. 
Summary
This summer will certainly be different, especially with dining, entertainment, nightlife and amusements. The rules are constantly changing and will probably evolve over the summer.
Some of the classic events such as the craft markets and chowderfest probably won't happen. There are plans for open air drive in movies.
Fireworks are another event that may not occur this year.
Similar Posts:
Privacy and terms of use