History
Long Beach Island has a long and fascinating history. The island was used by Native Americans as a hunting and fishing spot. There are rumors of visits by Viking longboats and pirates. During the Victorian era, Beach Haven and Barnegat Light grew quickly. A railroad replaced steam and sailboats as the means to bring visitors to the island.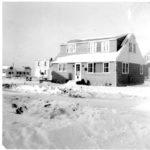 Snow on the roof and ground in North Beach Haven, some time in the mid 1950's
Continue reading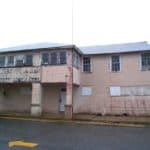 The Rip Tide was on Dock Road adjacent to the Ketch (formerly the Acme).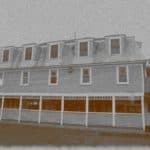 The Acme was one of the hottest bars on LBI during the 1970's.
The Ketch was once the Acme Hotel, Bar and Restaurant. During it's heyday it was a favorite of celebrities such as Babe Ruth. It was also allegedly a speakeasy during prohibition. When the revenuers were on their way, the stash of not so legal booze could be dropped into the bay.  Continue reading →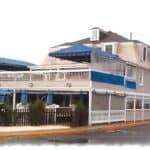 The Ketch has a long history with Long Beach Island. Today it is a restaurant and a night club with teen nights.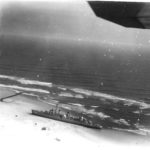 The USS Monssen was being towed while the March 1962 Nor'easter ravaged Long Beach Island. She broke loose from her tow and ended up hard aground in Holgate.
A railroad once ran to Long Beach Island. Once on the island, the tracks split. One line went north to Barnegat Light and the other went south to Third Street in Beach Haven.  You may have wondered about the extra lanes on the boulevard. These were where sidings were for the railroad. When the automobile bridge was opened, the new boulevard followed the railroad. It had to go around the sidings. Today they are simply a place for extra parking.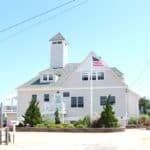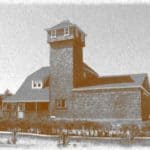 The Long Beach Island Fishing Club occupies the old Harvey Cedars Lifesaving Station.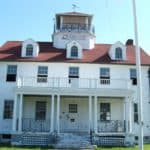 The old Coast Guard Station in Barnegat Light has been acquired  by the Borough of Barnegat Light and is now the Borough Hall.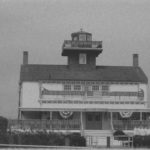 Tucker's Island was a small community on an island/peninsula just south of Holgate.  The island had been inhabited since the late 1700's. In the 1800's Rueben Tucker purchased the island and built a home and small tavern. The community grew. Eventually it was about half the size of Beach Haven.
Privacy and terms of use