Gone but not forgotten
Gone but not forgotten:  The history of LBI includes landmarks that have disappeared. The Lucy Evelyn was a schooner that was beached as a store in Beach Haven. She burned in the 1970's. The Hotel Baldwin was a grand hotel in Beach Haven. The Baldwin also fell to fire. The Engleside and Parry House were large Victorian Hotels that are now gone. In an earlier time, Bond's guest house was a favorite of visitors.  In Barnegat Light The Sunset Hotel and the Oceanic Hotel were in their glory.
A railroad ran from Tuckerton south to Beach Haven and North to Barnegat Light.
In recent times, businesses and landmarks have come and gone.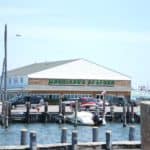 Morrison's Restaurant was a classic LBI restaurant. It had been serving great seafood since the 1940's. It's position adjacent to the intercoastal waterway and large windows provided a parade of boats for diners. The volume of boats dropped off significantly as time progressed. In the earlier days, you would see a continuous procession of  everything from well worn garveys to expensive sport fishermen while you enjoyed great seafood. Continue reading →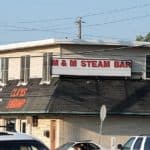 Unfortunately, this photo does not do the M&M Steam bar justice. It sold raw and cooked seafood. As I recall, the M&M ended operations after Hurricane Sandy. Continue reading →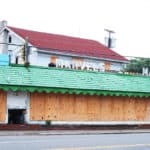 Marvel's Market in Spray Beach was located where the new WaWa stands.  Marvels was a small 'supermarket'. One of the things I remember most was the doughnut machine making endless doughnuts.  There is a small deli on the other side of the boulevard that still makes the doughnuts. Continue reading →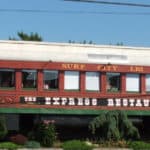 The Express Restaurant in Surf City was a collection of freight and passenger cars arranged into a restaurant. The restaurant closed some time around 2006. The cars are no longer on LBI
Privacy and terms of use