History
Long Beach Island has a long and fascinating history. The island was used by Native Americans as a hunting and fishing spot. There are rumors of visits by Viking longboats and pirates. During the Victorian era, Beach Haven and Barnegat Light grew quickly. A railroad replaced steam and sailboats as the means to bring visitors to the island.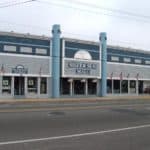 The Silver Sun Mall is located at 3rd Street and the Boulevard in Beach Haven. It houses a variety of small stores selling beach goods, art and clothing.  Prior to it's current incarnation as a mall, the Silver Sun was home to Koseff's,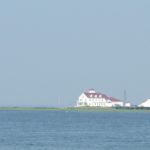 The Rutgers University Marine Field Station is housed in the former United States Coast Guard Station Little Egg.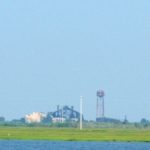 The fish factory processed Bunker. It was very active in the 1970's. At some point after that, it ceased operations.
The Harvey Cedars Bible Conference was formerly the Harvey Cedars Hotel.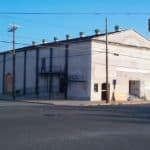 The Colonial Theater served Beach Haven from the 1920's to around 2000.
John Bailey Lloyd was a historian who documented much of Long Beach Island's early history. I had the pleasure of listening to one of his presentations at the Spray Beach Yacht Club. He was a fascinating speaker and had a genuine love for the history of LBI.
Mr. Lloyd passed away a few years ago. However, he left a legacy of books that provide a look into the past.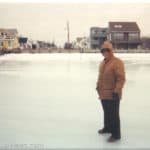 This picture is at the end of 17th Street in North Beach Haven. I took it but I don't remember the exact year. Judging from the houses in the background it was probably in the 1990's.
The bay had frozen over pretty hard. My Dad and I were slightly crazy walking on the ice. Where we are standing is normally about 4-5′ deep. Continue reading →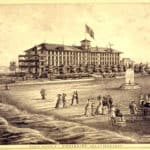 The Engleside Hotel, Late 1800's, Beach Haven, New Jersey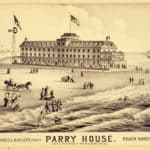 The Parry House was one of the earlier hotels on Long Beach Island. Bonds Long Beach House preceded it. It was a 200 bed hotel.
The engraving above is from a collection at the National Oceanic and Atmospheric Administration's library.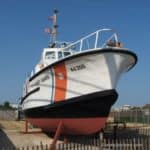 For a number of years, the retired Coast Guard Cutter 44355 was on display at the Bayview Park. Bayview Park is located across from the Long Beach Township Municipal Buildings on Long Beach Boulevard. Continue reading →
Privacy and terms of use