A railroad once ran to Long Beach Island. Once on the island, the tracks split. One line went north to Barnegat Light and the other went south to Third Street in Beach Haven.  You may have wondered about the extra lanes on the boulevard. These were where sidings were for the railroad. When the automobile bridge was opened, the new boulevard followed the railroad. It had to go around the sidings. Today they are simply a place for extra parking.
Hotels, Motels and Guest Houses on Long Beach Island.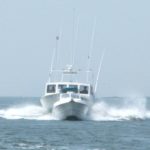 I saw this coming back from a fishing trip in 2005. It's not as bad as it seems.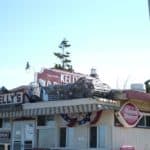 Kelley's Old Barney restaurant is one of my favorites when visiting Barnegat Light.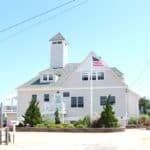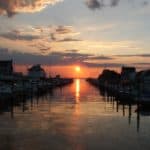 This is one of my favorite sunset pictures.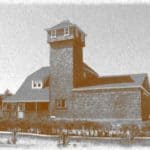 The Long Beach Island Fishing Club occupies the old Harvey Cedars Lifesaving Station.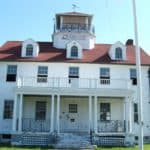 The old Coast Guard Station in Barnegat Light has been acquired  by the Borough of Barnegat Light and is now the Borough Hall.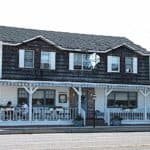 The Beach House Restaurant is located about five miles south of the causeway on the Boulevard. . We stopped in early in the season in 2017 and had a fantastic meal.  It is a BYOB so bring a bottle. Check out their early bird specials. You beat the rush and get a good deal.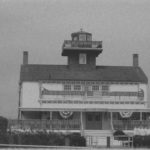 Tucker's Island was a small community on an island/peninsula just south of Holgate.  The island had been inhabited since the late 1700's. In the 1800's Rueben Tucker purchased the island and built a home and small tavern. The community grew. Eventually it was about half the size of Beach Haven.
Privacy and terms of use