1800's
The Harvey Cedars Bible Conference was formerly the Harvey Cedars Hotel.
John Bailey Lloyd was a historian who documented much of Long Beach Island's early history. I had the pleasure of listening to one of his presentations at the Spray Beach Yacht Club. He was a fascinating speaker and had a genuine love for the history of LBI.
Mr. Lloyd passed away a few years ago. However, he left a legacy of books that provide a look into the past.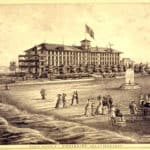 The Engleside Hotel, Late 1800's, Beach Haven, New Jersey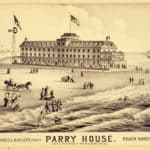 The Parry House was one of the earlier hotels on Long Beach Island. Bonds Long Beach House preceded it. It was a 200 bed hotel.
The engraving above is from a collection at the National Oceanic and Atmospheric Administration's library.
Privacy and terms of use