The Lucy Evelyn at anchor in Little Egg Harbor.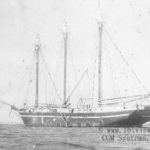 The Lucy Evelyn was a three masted schooner built in 1917 in Machias Maine.  She served for a number of years including the packet trade to South America. At one point in World War II, she was shelled by a German U-Boat.
In 1948, she was purchased by a local businessman, Nat Ewer. He wanted the ship to beach her as a gift shop at Ninth street in Beach Haven. My Dad, Uncle, Grandfather and other family members took their boats out to see the schooner in the bay. During a storm, the tide rose enough that she could be brought into her final berth.  … but not after a great deal of effort.  The Lucy Evelyn had broken free and was drifting. Thankfully, she was able to be taken under tow to 9th street. When they got her into position, they filled around her with gravel.
She remained there until she burned in a devastating fire in 1972 due to a faulty heater.
Visitors entered what was the cargo hold through a portal cut into the side of the ship. There was a distinctive smell of spices when you entered. You could also take a tour of the cabins in the stern and walk the decks. The decking was covered with thick grey paint and possibly fiberglass.
Some time in the late 1960's some local boys caught an 8′ Hammerhead shark that had been sighted in the bay. The shark was hung from the cathead. That is the beam in the bow that holds the anchor when it is raised or lowered.
The Lucy Evelyn was located about where the shops are today with her bow facing east.  Her three distinctive masts were a landmark for boaters in the days before GPS.
There are some crumbling remnants of her if you look closely around the schooner's wharf. The remaining artifacts from the Lucy Evelyn are slowly disappearing.
A replica sailing ship was built for the Schooner's wharf. It sits slightly south of where the Lucy Evelyn sat and it's bow faces west.
The marker indicates the approximate position where the Lucy Evelyn was drydocked
 [amazon_link asins='B01B12E7M2,B07737CXGY,B014VS51P0,B078YYF9VV,B078YXTFL7,B078YXK8VN,B00PY91KOC' template='ProductCarousel' store='lbiviews2018-20′ marketplace='US' link_id='bf4a1648-1003-11e8-acb1-0ff47eed6563′]
Similar Posts:
7 Responses to The Lucy Evelyn at anchor in Little Egg Harbor.
Privacy and terms of use